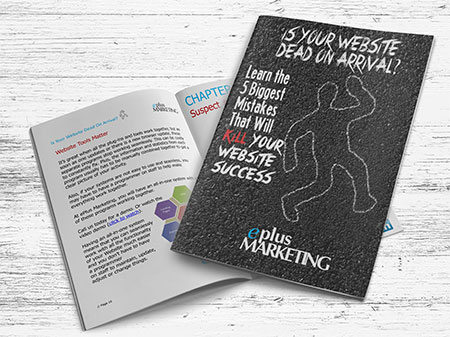 How do you know you're Website is "Dead on Arrival"? The site is live, you send people to it, but nothing happens. Few is any leads, sales or phone calls.
A Website is "Dead on Arrival" when it:
•Fails to increase leads and sales.
•Fails to have a ROI (return on investment) within a year or less.
•Less than 1% of your visitors take action (buy something, complete a form,download a paper, contact you).
FIND OUT THE SECRETS TO:
•Why people are coming to your Website, but leave fast
•Why you're not getting leads or sales from your site
•What will engage your site visitors to take action
•What one secret will help automate your sales process
•The one thing you can do NOW to keep leads from falling through the cracks
PLUS, other easy to follow tips for any business owner wanting to improve the return of investment of their digital marketing, especially their website. This is an EASY to read, easy to follow ebook designed for business owners and managers.
Download Free eBook
* Required