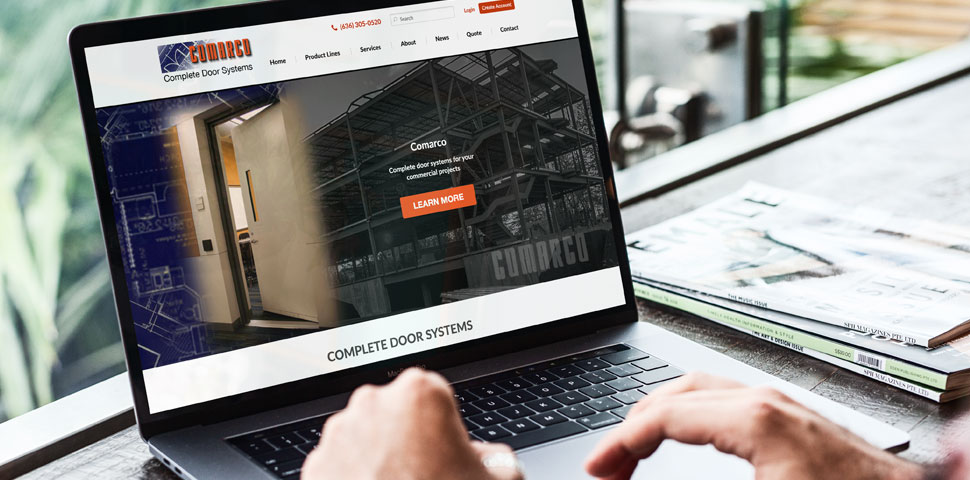 ---
Details of Project
Client: Comarco Doors
Industry: Construction
Highlights
Online Quote
Video
Capabilities & Vendor Listing
---
Back To Portfolio List
Comarco Doors
provides complete door and door systems for commercial and residential projects. They hired us to develop a website that would help them generate leads with a quote system and display product lines.
The result was a professional-looking Website that utilizes an all-in-one cloud-based system. The system allows them to immediately capture leads when a site visitor completes the online quote form. It also helps them save time when talking to a client. Comarco can direct a client to the Website and guide them to the various product photos and suppliers which helps narrow down the style and type of door needed.
When making a door, it's critical in knowing the correct placement of hinges and handles. The site page with the handling chart is now sent to clients for an easy understanding of determining locking positions.
The images at the top are some of the Call To Action (CTA) rotating Ads that were created to increase Website conversion. The ads rotate one by one when the page is refreshed or re-visited. The program allows our client to see how often the ad was shown and clicked. This allows us to help them always update their site with fresh "ads" with CTAs that work and eliminate poor-performing ads.
As a bonus, we added a video overview of Comarco's capabilities. Site visitors can now just click play to see a 2-minute video that explains the services and capabilities of the company.