7-Step Digital Marketing Supercharged Process ©
Our 7-Step Digital Marketing Supercharged Process© provides you with the greatest return on your marketing investment and will allow you to raise the level of online competition in your industry. This proven digital marketing process entails Research, Strategy, Planning, Execution, Measure, Modify, and Results.
Most firms focus on design because their founder is a designer, others focus on programming because their founder is a programmer. However, at ePlus Marketing, we focus on overall sound marketing principles. Yes, our founder is an MBA graduate with experience and education in marketing and business. This 7-Step Digital Marketing Supercharged Process © was developed after years of ground-breaking proven methods and experience.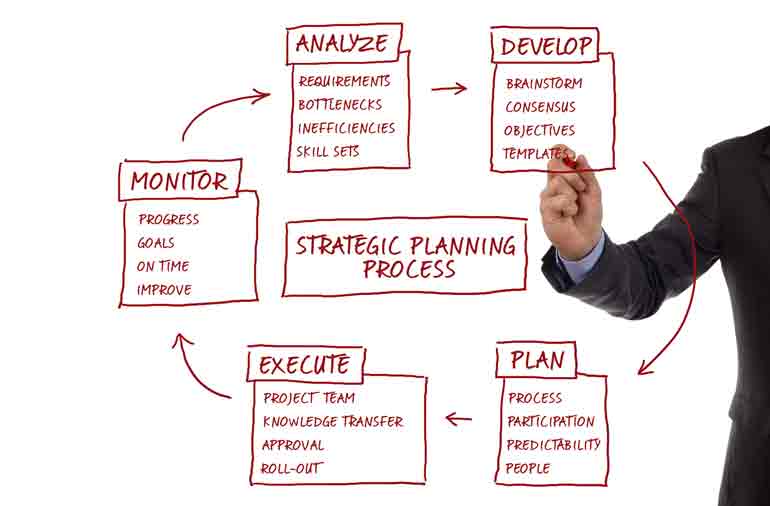 Some of the steps were tweaked by try and error, but in the late 1900s and early 2000s, there were no guidebooks other than programming. No one was teaching how to make your website successful because it was so new to most businesses. ePlus Marketing was one of the first agencies in the nation to talk about and use website conversion techniques. Conversion techniques are tactics which help increase the results and success of your website. Back then companies were excited because a programmer made their logo spin around. It's laughable now, but when a majority of companies let programmers, rather than marketers, run the ship that's the kind of thing they got.
Research:
We begin by outlining the details of your project and objectives. This first step helps determine the true cost, uncover potential problems, avoid costly mistakes and provide in setting the foundation for the project scope and timeline. Most companies give their clients plans, strategies and websites based on guess-work rather than sound research. Before you launch your site, don't you want to know what most of your competitors are doing? How will you stack up against them? More importantly, how will your site answer the questions your target audiences want to know? Is your target audience different online than offline? Do you know? Our clients know once once we complete the research and discovery process. In-depth research saves you tons of time and money because research is based on facts, not guesswork. Which one do you want?
How does it save you money when you have to pay for research? Developing and website design based on guesswork means you'll have to pay more money to redo your site to make it work at the level you need. If you have 100 visitors to your site come in a week and only 1 of them calls or buys something your site really isn't working, is it? You'll need to spend more money either making more guesses and by trial and error, hoping you may hit on the right combination. With research, you know what key elements appeal to your prospects and which one doesn't. You'll still need to tweak your site but again, it's based on data and not guesswork.
Strategy:
We make it our business to understand your business, your customers and your competition. All your marketing efforts including sales should work together. Your project strategy will include a comprehensive marketing plan. If you have a lead generation website, do you know what happens to the lead from the moment it comes in? We call it Life of the Lead and its part of our marketing services. Without a detailed strategy and tactics to handle the Life of the Lead, we're not real marketers. We're just stopping at the generation of the lead and not helping you until it closes and beyond. Yes, there is or should be beyond the close, and we don't just mean delivering the product or service.
Life of the Lead includes the lifetime value of your customer. Do you have a strategy to retain and leverage your clients or customers? Why not? It should be a part of a professional marketing strategy. Or does your digital marketing firm stop at generating leads for you? True digital marketing should at least be knowledgeable about comprehensive marketing. If they don't have the expertise to help you they at least should make you aware of key fundamental marketing strategies and tactics. No one can be an expert at everything, that is why at our agency, ePlus Marketing, we have a long-term partnership with other skilled professionals who can help our clients with other aspects of marketing such as radio and TV advertising.
Planning:
We will integrate our research, marketing, and development expertise with your objectives to create an efficient, cost-effective project plan. Planning often starts with your budget. Many people ask the question, how much does this cost? It's really not about how much something costs, it's about the return on investment. Many marketing professionals say that marketing budgets should be at least 10% of revenue. But if a company really wants to grow, it should be closer to 15%. Of course, this all depends on your industry, how long you've been in business and the product life cycle.
We hear of many companies who had their website company make the site and immediately put them into a Google Adwords program. Google Adwords may be the right fit, but there are times when email marketing works best. Or established companies with a database of clients may be better off starting with marketing to their existing clients for additional services or products. Just automatically putting a client into Google Adwords or SEO may not be the most cost-effective method for them. Considering all options comes with education and experience. Having a broad education in business helps our staff at ePlus Marketing to look at the complete picture of a client's situation. Very rarely, even with large corporations, should a business engage immediately in all marketing tactics such as pay-per-click, SEO, social media, email marketing, retargeting, etc. It's best to first get one or two tactics that fit their situation and then add others as the profits increase. Reinvesting a portion of a company's profits into marketing can help a company grow faster. It all starts with knowing the right tactics to start and then adding more as needed.
Execution:
Our experienced team executes the plan, which includes checkpoints and evaluations. Communication is key with execution of a project or campaign. We make sure our clients know what is going on every step of the way. Plus, there are approval processes and checkpoints to make sure the deliverables are exactly what is spelled out in the Statement of Work which details the scope of the project.
After the contract is signed, we sit down with our clients to go over in exact detail the scope of the project. That starts with a client survey. The survey is given to each stakeholder to be completed separately. This method helps uncover the disconnects within the company, as well as the plan. The questions are designed to uncover their goals, tastes in design, existing marketing and sales methods and other aspects of their company. Together with our initial research, a project plan is made. In the plan we develop set approval points as well as the method to communicate.
Our team uses online project tools to assist with communication. But here's the deal. We don't force our clients to use the methods of communication we prefer. Instead, we communicate how THEY prefer. We're here to serve our clients and make life easier for them. If an online project tool is too confusing or not convenient we find ways to get the information to them.
Measure:
Determining what works and what doesn't is the only way to improve the site. Once the website is finished that's not the end. Launching a site that is not going to be updated, or tweaked may be a waste of money. Launching a site and expecting it to work "as is" is a sure way to have it fail. We use tools that help us determine what is working and what is not working. Is the right type of traffic coming to your site? Is the traffic going to pages you expect them to go to? Are they taking the action you want them to take? Here is where analytics and tweaking come in to help constantly improve the website conversion of your site.
Analytics will give us vital information about the site visitor. What words did they use in the search engine to find the site? Where on the site did they go? How long did they stay? Advanced analytics can build a digital profile which will tell us how often the visitor comes to the site, the words they click on, and how long they stay.
Consider this example: You're talking to a prospect and they tell you they're not ready to buy until May. You send them an email and put them in your nurture campaign, as well as record a call back maybe in late April. However, your advanced analytics indicate that in February they're returning to your site, and they're looking at a different product or service than what you discussed. You see that they are downloading white papers and product specs and staying longer on the site. You reach out to the prospect and bring up the new product. You're able to now close the deal that you would have missed if you didn't have advanced analytics. The right tools will help your team to be proactive in sales and marketing.
Modify:
Based on metrics, modifications will be made to continue improvements.
Analytics can tell us that people are not clicking the buttons we want them to click. So, does the button need to be bigger, a different color or have a different call to action? In one situation we just had to change the color of the button. That produced a 2% increase in conversion. That may not sound like a lot but that's a big step forward. In another site we took over, we had to make the call to action button look like a button. That produced a 5% conversion increase. Each situation is different. Each client is different. Testing and analytics is the only way to constantly improve the performance of your site.
Results:
You should receive a minimum of a 3:1 marketing ROI on your online projects. What does that mean? For every dollar you spend with us you should receive at least 3 dollars in return. That's a rule of thumb for most of our clients. However, many of our clients receive a higher return on investment. In fact, we found that the clients that have us do all their digital marketing, as well as direct their other marketing, have much faster and a much higher return on investment.
Read for example how we helped one of Solutia's products division to have over 300% return on investment. Before we started their new site, we did an analysis on their current site and found out that it produced about $9,000.00 in gross profits a month. Within six months after the new site was launched it produced over $900,000.00 in gross profits a month. The main reason -- we were in charge of their internet marketing. They didn't have one company build the site, another company do the Adwords and another company does the search engine optimization. They were greatly rewarded by having everything handled by one company - ePlus Marketing. Read the case study on Solutia.
Another example is with a small women's boutique dress shop. This shop sold designer dresses and casual wear to women 40 and over. Many of their dresses were for the mother of the bride or elegant ball gowns for top social events in St. Louis. When we started working with the company we design a Website for them and developed email marketing campaigns. In the first year they say a 30% increase in sales. But that's not all.
A small part of their store had prom dresses for high school girls. The owners wanted us to develop a marketing campaign for this customer segment. Since the two target audiences where generations apart in style and buying habits we needed a site just for the Prom dresses. Next, we did a direct mail campaign, social media, and email marketing. The first year the results were the best since the company started in 1988 with a sale of 300 prom dresses. Next year we wanted to increase the sale to at least 400 dresses. The owner was doubtful and said he would be able with a repeat of the sale of 300 dress. They didn't sell 400 dress. They sold over 1,400 dresses. Again, we were the sole marketers for the company. This insured that everything worked together smoothly to give them the best possible results. Read the details of this case study.
How are your digital marketing goals? Are you increasing sales or leads? It might be time to get a second opinion and just double check to see if your marketing is running at optimal performance. Call us today with a no-obligation marketing assessment. You won't be high pressured to purchase anything. In the assessment we will give you at least 2 ideas that you can implement immediately.
Call us today at 314-569-9880 or order a free, no-obligation marketing assessment.